Insurance Plan Maintenance
You can perform Insurance Maintenance under Settings > Insurance with Account Manager privileges.
Under Settings > Insurance > Show Insurance Plans > Edit > Insurance Type > Insurance Plan > Phone > Fax > Payor ID > Address 1 > Address 2 > City > State > Zip > EDI Service > Primary Only > Update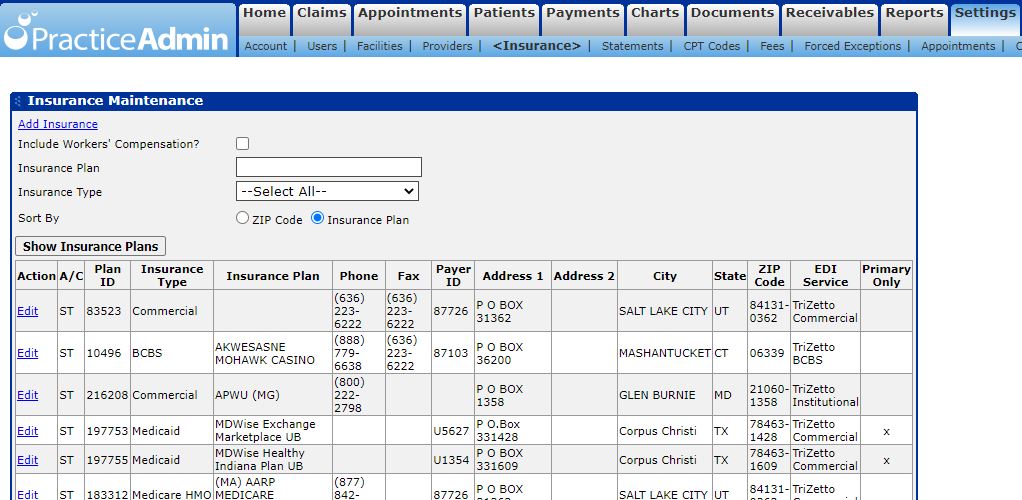 Make any updates/changes to the editable fields (Insurance Type/ Insurance Plan/ Phone/ Fax/ Payor ID/ Address 1/ Address 2/ City/ State/ Zip/ EDI Service/ Primary Only) and click the Update hyperlink on the left end of the corresponding line to save the changes in your list.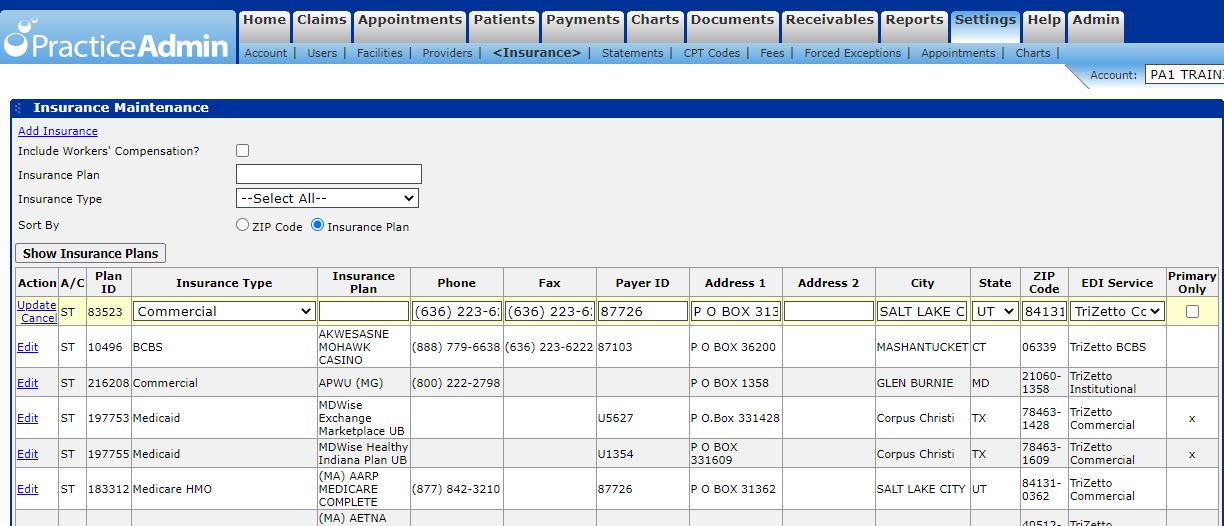 Related Articles

Edit Insurance Plan Payer ID

1. Here are the steps to research payer ID numbers and payer information: Go To the Claims Tab > EDI Portal Click on the Resources Tab Select Payer list Now click the Blue link "Professional Payer" or "Institutional Payer" if applicable Scroll down ...

How to add payer to Practice Insurance list from Master Insurance List

If you received the response below for an insurance validation request OR you are adding a payer by searching the Master Insurance List Lookup tool, please see steps below. ​ "This plan is currently available in our master plan list. Please search ...

Insurance Plan Updates or Additions

When requesting Edits or New Plan additions from the Insurance Validation Department, you will receive an email response with one of two replies in the subject field: Insurance Changes Succeeded for "XXXX Ins Plan" or Insurance Changes Failed for ...

How to Add a Payer for Paper Claims

To add a payer for paper claims: Under the A/C#, go to the Insurance Tab and respective Insurance Type (Primary Insurance, Secondary Insurance) Use the Plan drop-down list to search for the plan and details, if already in your database. If the plan ...

Add New Insurance in Settings

To add a new insurance payer to your practice insurance list: From the Settings tab > Insurance tab: 1. Click on Settings > Insurance tab. 2. Click on the Add Insurance hyperlink. 3. In the Insurance Plan Lookup tool, search by PO Box (number only) ...