Please use the Collection t
ab when you are ready to send a patient to collections.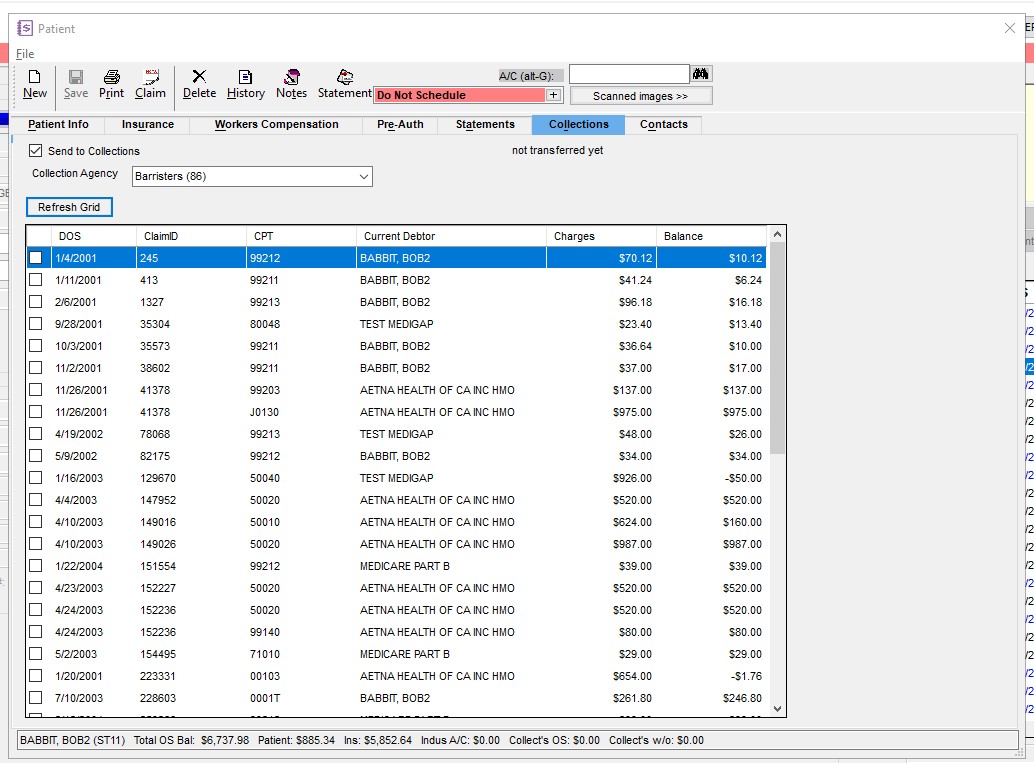 The recommended report to use is Pre-Collections Completed (Reports > Billing). This will generate a list of all patients who have completed their pre-collections cycle and are ready to send a final notice.

From the Collections Tab, click Send to Collection. Next, select the Collection Agency from the dropdown. In the grid, all of the outstanding claim balances are listed. Check or uncheck to select the claim lines you are ready to send to collections after generating the final notice.

Notice that the flag on the patient's account is now Collection Pending. Click back to the Statements tab, and the Next Stmt Type is Final Notice.

The best practice is to run the Collections process at the same time each month. This will help you manage the individual accounts turned over to collections and allow the grace period to lapse before pulling collection files.

After transferring all accounts, generate the report Collections Pending. The report will have the amount that will be transferred and the date of the Final Notice Letter.

From ProviderSuite Web App, choose Billing Tab and the Collections sub-tab. Only Account Manager users have access to this sub-tab.

The Collection sub-tab has two sections: Sent Patients to Collections and Generated Files.

Send Patients to Collections section contains two sub-sections: Simple Generation and Advanced Generation.

In the Simple Generation sub-sections, you can select a certain collection agency in the list and click the button on the right, Transfer and Generate File, to transfer patients that are supposed to the transferred to the selected collection agency.

The Advanced Generation sub-section is used if you are not sure which agencies have patients eligible for collections, click the Find Agencies with Eligible Patients button in this subsections (it may take a while to process).

The button will then be replaced with the list of such agencies. Uncheck those that you do not want to process at the moment and then click the button below to send patients to the checked agencies.

Generated Files section contains results of all attempts to transfer patients to collections performed on this tab. The table is refreshed automatically if you do not leave the page after you click the button. If some patients have been sent to collections, you will see a link the the Excel file that contains information on the transferred patients. Otherwise, you will see an explanation of why nothing was transferred.