Lookup any patient, submission dates, or date of service to see if your claim has been accepted by the carrier or rejected and why. Many carriers will accept an acknowledgment of acceptance from claims status as proof of timely filing. The following search options are available:
• Patient
• Payer
• Secondary
• Provider
• Advanced
Select which option you would like from the Search By drop-down menu. Enter as much information as you can and then click the green Create Report button.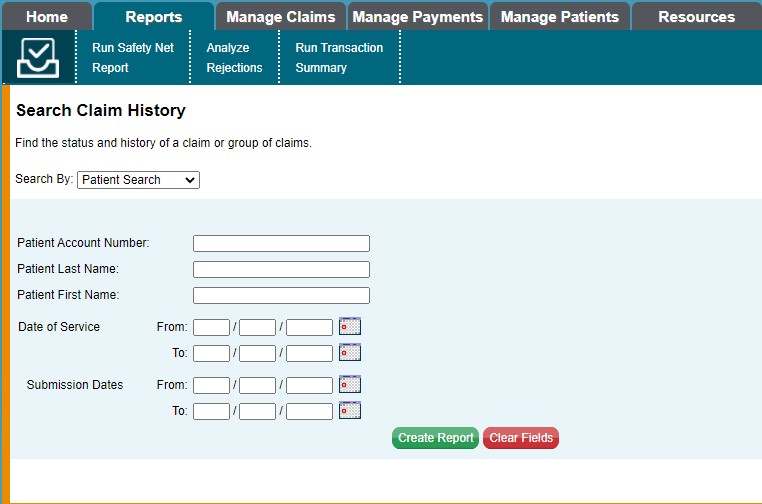 This will list every claim you have filed for this patient or the date of service you entered. Try the different searches. Advanced Search will allow you many options including tracking files between dates so you can run it against your accounts receivables to track your claims. You may change your sort in the Advanced Search by using the sort option boxes. Remember, less is more when searching so if you can't find the patient you are looking for, try last name and first initial. Claim Status can be used for proof of timely filing if there is an acceptance report from the payer. Click anywhere on the row of the claim you would like to view if it is 'Payer Received' to open the detail window. Print and include the detail from your Practice Management System. This serves as proof that the payer received your claim.
Payer List


The Payer List will give you a list of all the payers that we submit to electronically, both professional, institutional, and dental.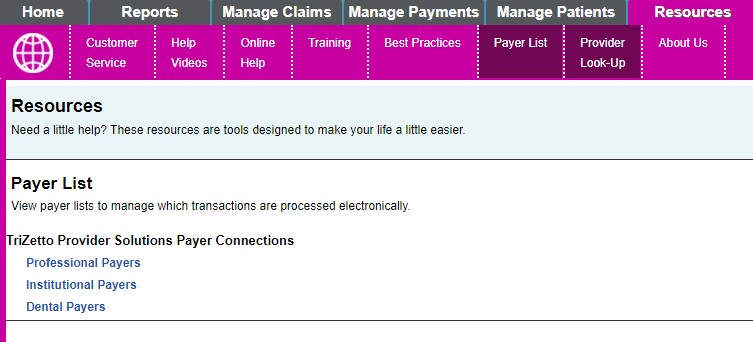 Once here, you can search TriZetto Provider Solutions payers by name, Payer ID, or by state. Once you select your state and your payer Name, click the green Create Report button to view a list of payers that meet those criteria.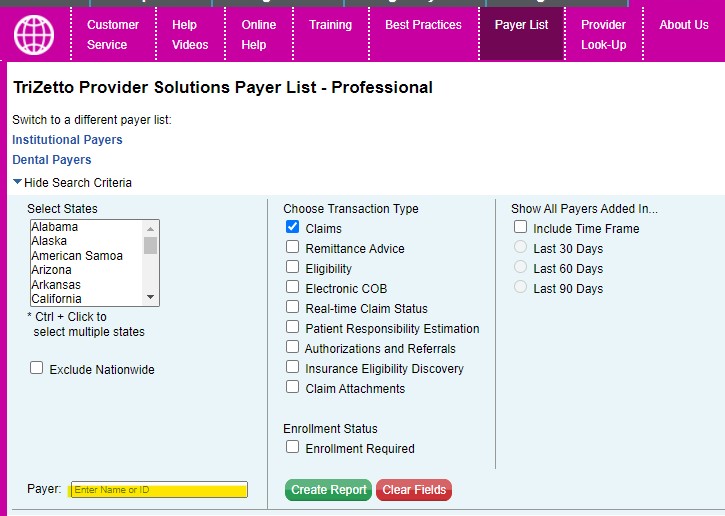 Your search results will include Payer Name, Payer ID, Available Transactions, Enrollment Requirements, and Contact Information.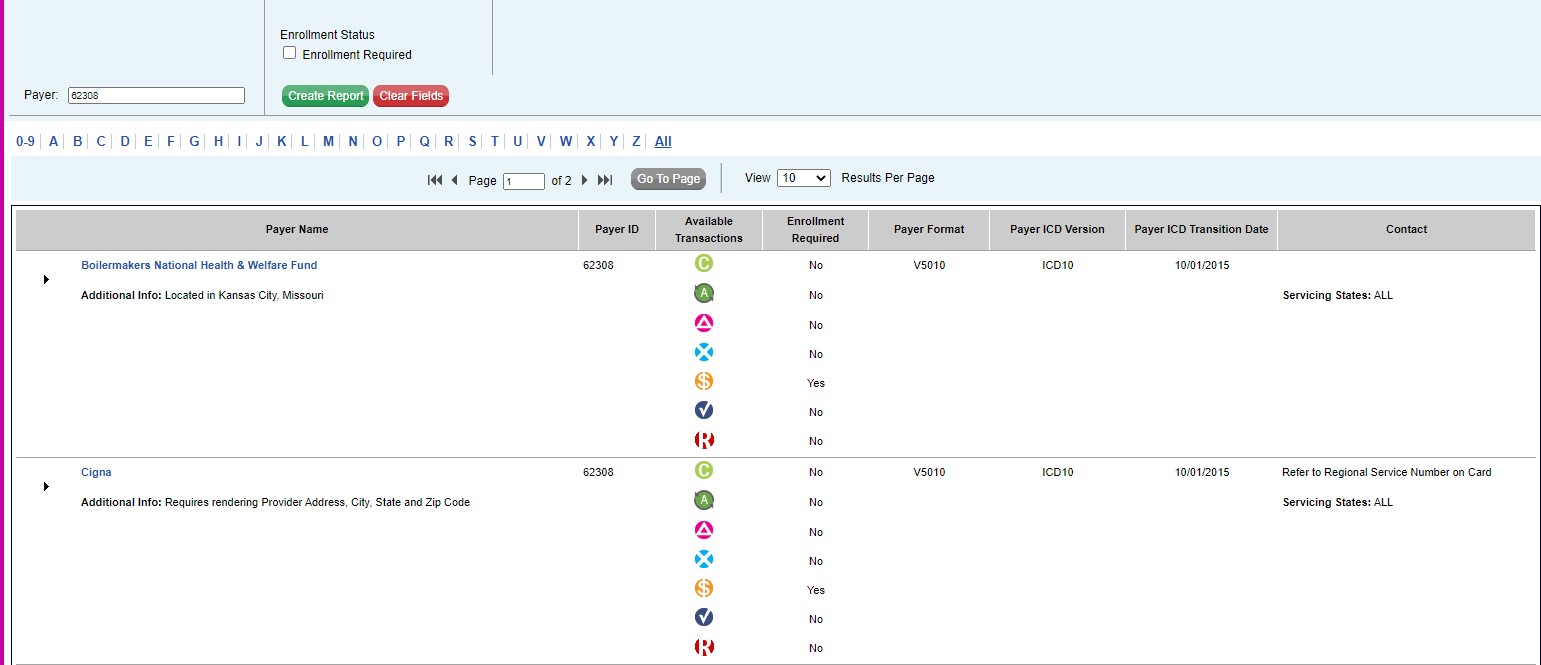 Here are a few tips to help you with this page: If the Payer Name appears in blue, it means you can access that payer's website by clicking on the Payer's Name. Hover over the icon in the Available Transactions column for a description of that transaction. Under Enrollment Required, the word 'Yes' appears, additional enrollment is required for that payer, and TriZetto Provider Solutions should be contacted. Because the Payer List is updated on a regular basis and is quite large, we do not recommend printing it.
Message Center
The Message Center is used to communicate with our clients and will keep you informed about payer changes, new payer connections, submission errors, industry news, holiday hours, etc. After you read your new messages you will have the capability to delete them permanently with a red delete button or if you do not delete the message TriZetto will save them for you automatically and archive them. You can then checkmark the Include Previously View Messages to see them again.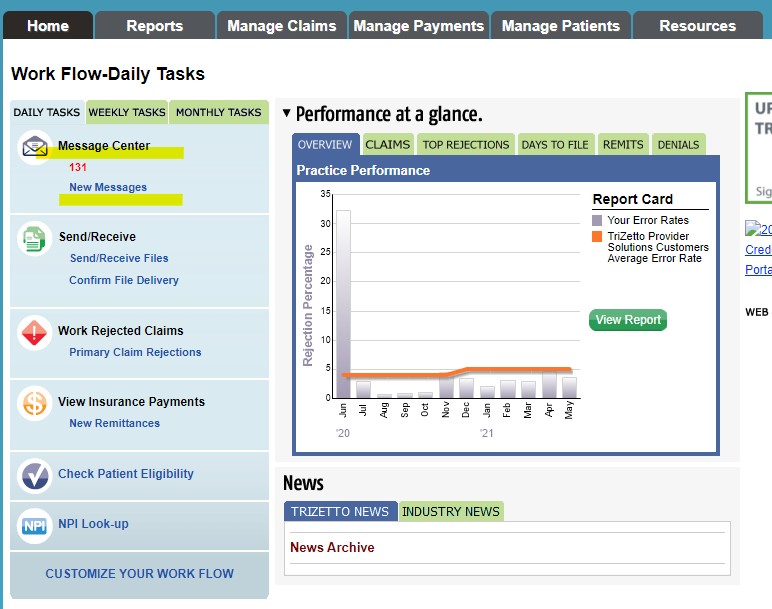 Performance At A Glance
Performance at a glance is a visual overview of all of your reports. Basically a snapshot of how you are doing. This will show up to a 12-month report card which will allow you to compare your individual progress month by month with other TriZetto Provider Solutions clients.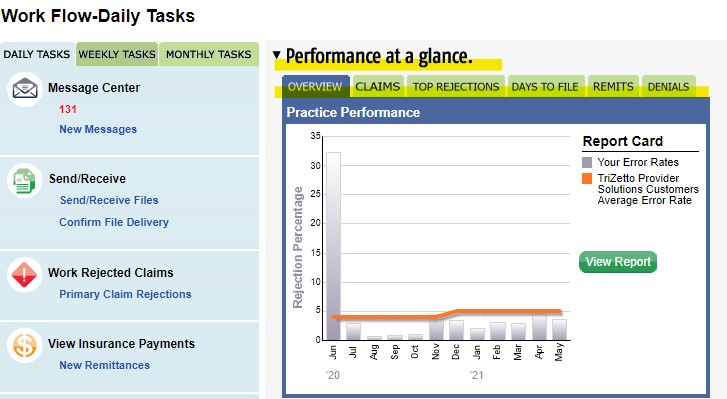 ERA Analysis Report
Accessing the ERA Analysis Report You can navigate to the ERA Analysis Report several ways: Via the Ribbon by clicking Manage Payments>Run ERA Analysis
Via the Ribbon Landing Page by clicking Manage Payments>Run ERA Analysis

Running an ERA Analysis


When accessing the Run ERA Analysis report, you will have to choose a date range search option that is based on the claims submission date. The recommendation is to utilize the default which pulls the last 90 days worth of data; however, there are 3 different ways you can search:

1. Last 90 Days
2. – Choose –
3. Last Month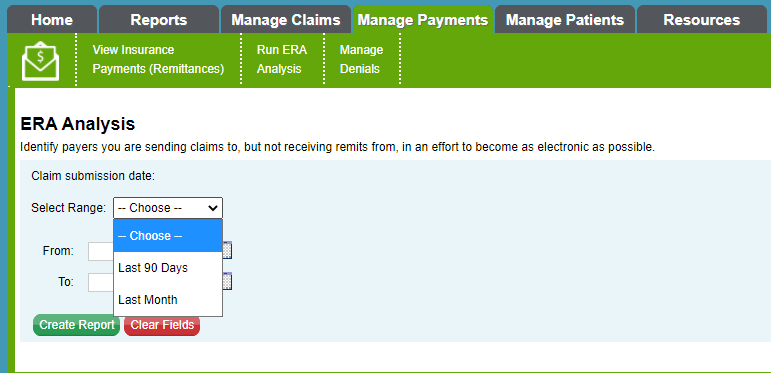 The results will be grouped by TIN/NPI combination.
In order to see more details about each TIN/NPI combination, select the arrow to the left of the site ID.


Exporting the Report
You can choose to export the report to Excel. This can be helpful when you want to sort the results. To export to Excel, you will choose the green button in the top right-hand corner of the page.